Evaluation of current methods to detect the mutations of epidermal growth factor receptor in non-small cell lung cancer patients
Multidisciplinary Respiratory Medicine
2012
7:52
Received: 12 September 2012
Accepted: 19 November 2012
Published: 11 December 2012
Abstract
Many different methods were developed to detect commonly known mutations and to screen new mutations of the epidermal growth factor receptor in non-small cell lung cancer patients. Some of these methods are so sensitive as to be able to detect even one epidermal growth factor receptor mutant tumor cell among up to 1000–2000 normal cells. We have considered current methods chronologically reported to detect mutations in epidermal growth factor receptor in patients with non-small cell lung cancer. We also gave a short preview of their significance for routine clinical works. A Pub Med literature search was performed in order to demonstrate what methods are mostly used in mutation detection and to show their distribution through the last 10 years.
Keywords
EGFRMethodsMutationsNSCLC
Review
Introduction
An extensive genetic research has provided a lot of useful information about molecular genetic abnormalities, including chromosomal aberrations, over-expression of oncogenes, and deletions or mutations in tumor suppressor genes. These results have been applied to early detection, classification, and prognosis of NSCLC [1].
Epidermal growth factor receptor (EGFR) is a trans-membrane receptor protein with a ligand-binding extracellular domain, trans-membrane domain, and cytoplasmic tyrosine kinase (TK) domain. EGFR is a member of a family of four tyrosine kinase receptor (RTK) molecules. Several ligands bind with receptor(s) and activate them inducing autophosporilation of TK domain, which is usually affected with mutations. This leads to a series of intracellular signaling pathways, which in turn result in cancer proliferation, reduced apoptosis, invasion, metastasis, and stimulation of tumor-induced angiogenesis [1].
Non-small cell lung cancer (NSCLC) is the most common cause of cancer-related death in the world [2]. EGFR is over-expressed in several tumor types, including NSCLC, and it was one of the molecules that were recognized as a biomarker for the development of targeted therapies [3, 4]. The deletion of the four amino acid sequence (del 746–750) in the exon 19 and the substitution of leucine by arginine at codon 858 (L858R) in exon 21 are two of the most common mutations in the kinase domain of EGFR gene in NSCLC patients [5].
The small-molecule tyrosine kinase inhibitors including gefitinib and erlotinib have recently been approved for the treatment of patients with NSCLC [4, 6–9]. In addition, mutations in the epidermal growth factor receptor (EGFR) have been confirmed as predictors of the efficacy of treatment with EGFR-tyrosine kinase inhibitors. The results from several randomized phase III trials have emphasized the importance of molecular testing prior to initiating first-line therapy for advanced NSCLC. Increasing evidence demonstrates that patients with EGFR mutations experience a more significant benefit with gefitinib or erlotinib compared to standard chemotherapy, whereas an opposite effect occurred in patients with EGFR-mutation negative tumors [7–9].
We have considered several methods to detect EGFR mutation reported in literature and come into use in the last decade. In addition we have analyzed a variety of sophisticated novel methods and previewed their significance for routine laboratory and clinical work.
Data review and interpretation
Pub Med literature was reviewed in May and April 2012 for all studies published from Jan 1, 2000 to December 31, 2011. In this search we took next key words: "mutations", "epidermal growth factor receptor", "EGFR", "non-small cell lung cancer", "NSCLC", actually "mutations epidermal growth factor receptor EGFR non-small cell lung cancer NSCLC" in single search, with activated limits that included "Humans", "Cancer" and "Publication Date". We thus obtained 1,270 articles. Articles included in our analysis are presented in Figure
1
.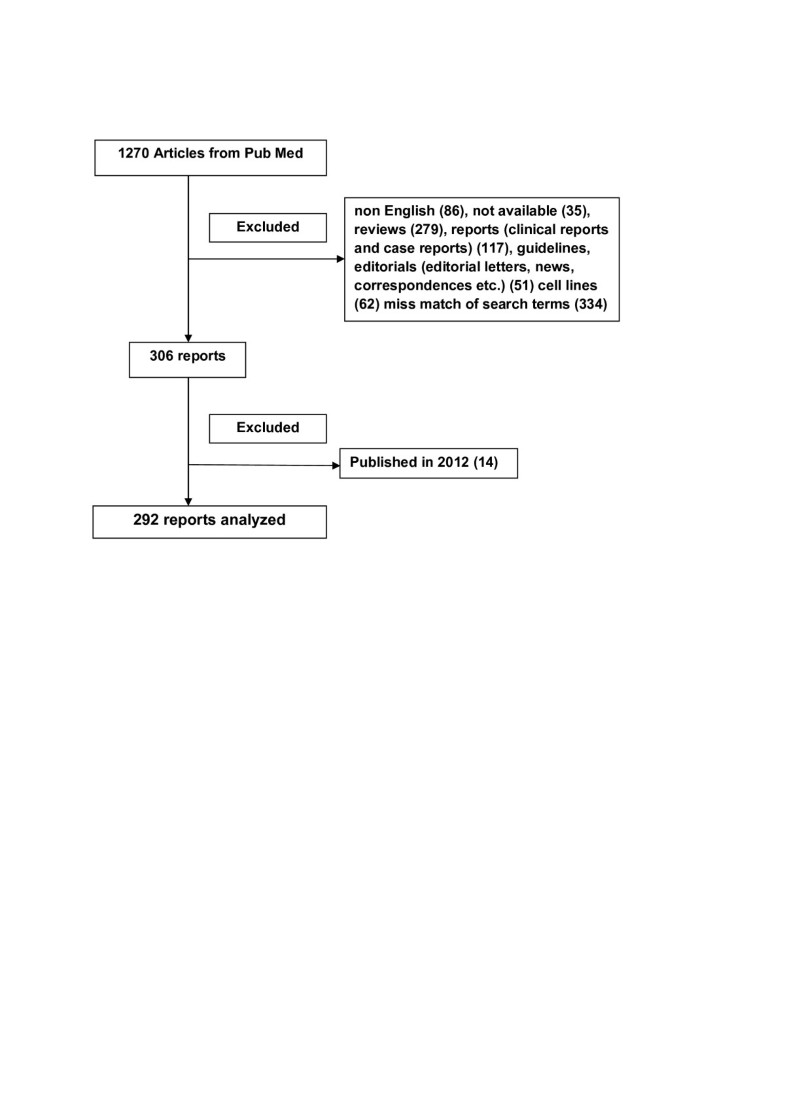 We excluded reviews, reports (clinical trials, and case reports), guidelines, editorials (editorial letters, news, correspondences etc.), reports that were not in English language or were not available, those which mismatched our search terms (articles that discussed about other proteins of mentioned signal pathways, not about EGFR, or about other diseases) and articles published in 2012 (Figure 1).
Overview of current methods for detection mutations of EGFR in NSCLC patients
Conclusion
A lot of methods are used to determine mutations of EGFR. These methods described here are highly sensitive, but usually available to detect only commonly known mutations of EGFR in NSCLC patients. DNA sequencing is widely used, but it is time-consuming and sensitivity of this method is often concerned.
We wish to point out that certain methods described here are generally used in the diagnosis of the tumor from biopsy. Other more sensitive methods are recommended to determine the presence of the mutation of EGFR from small tissue quantities. EGFR gene copy number can be assessed by a variety of methods, including FISH, CISH, and real-time quantitative PCR. Several publications reported up to 90% sensitivity for detection of EGFR mutations in circulating tumor cells isolated from patients with metastatic NSCLC [47, 48].
However, to detect the presence of minimal residual disease or molecular disease remission – thus solving a big problem in the clinical practice - we would suggest the need to introduce new, highly specific and more sensitive methods constantly.
Abbreviations
AdH:

Additional methods to dHPLC, like DS
AdH*:

Additional methods to dHPLC: one or more than one
ADS:

Additional methods to DS: one or more than one
AI:

Additional methods to IHC, like: and/or D.S + and/or PCR + and/or fluorescence in situ hybridization (FISH) + and/or chromogenic in situ hybridization (CISH)
dHPLC:

Denaturing high performance liquid chromatography
DS:

Direct DNA sequencing
IHC:

Immunohistochemical analysis
PCR:

Polymerase chain reaction.
Declarations
Acknowledgements
This work was supported by the Ministry of Science and Technology of the Republic of Serbia, number 175056.
Authors' Affiliations
(1)
Institute of Biology and Ecology, Faculty of Science, University of Kragujevac, Kragujevac, Serbia
(2)
Faculty of Medicine, University of Kragujevac, Kragujevac, Serbia
Copyright
© Jasmina and Jurisic; licensee BioMed Central Ltd. 2012
This article is published under license to BioMed Central Ltd. This is an Open Access article distributed under the terms of the Creative Commons Attribution License (http://creativecommons.org/licenses/by/2.0), which permits unrestricted use, distribution, and reproduction in any medium, provided the original work is properly cited.