Inflammation signals airway smooth muscle cell proliferation in asthma pathogenesis
Multidisciplinary Respiratory Medicine
2013
8:11
Received: 21 November 2012
Accepted: 3 January 2013
Published: 6 February 2013
Abstract
Background
Airway inflammation stimulates proliferation of airway smooth muscle cell, which contributes to the development of hyperplasia and hypertrophy of smooth muscle cell. The increase in airway smooth muscle cell mass is believed to be due to an up-regulation of inflammatory mediators in the airway. It is now well recognized that chronic inflammation as well as airway hyper-responsiveness and remodeling of airway during inflammation, are crucial to asthma. Airway hyper-responsiveness is caused by increased cell proliferation or by hypertrophy of airway smooth muscle cell depending on the nature of the inflammatory stimulation. Airway smooth muscle cell proliferation in asthma is regulated by the proinflammatory cytokines including IL-1β and TNF-α. These proinflammatory cytokines have been shown to influence human airway smooth muscle cell proliferation in vitro, which is due to cyclooxygenase-2 expression, production of prostaglandin E2, and increased cAMP levels.
Conclusions
This review highlights the role of different proinflammatory cytokines in regulating airway smooth muscle cell growth and also focuses on regulation of differential gene expression in airway smooth muscle cell by growth factors and cytokines, also to bestow unique insight into the effects of conventional asthma therapies on airway smooth muscle cell proliferation and development of new therapeutic strategies to control asthma.
Keywords
Airway inflammation
Airway smooth muscle cells
Asthma
Conclusions
Airway diseases are characterized by changes in composition of the airway wall; in fact, these changes are believed to be largely responsible for the various features of those diseases. For example, asthma is characterized by wall thickening (including both increased ASM and connective tissue) and ASM hyper-responsiveness. Inflammation causes airway hyper-responsiveness by up-regulation of procontractile agonists in the airway, increased expression of receptors, their signaling intermediates, and effectors, as well as regulators of calcium stores in ASM.
Studies of the airways in health and disease often use indices of the degree of ASM contraction:
e.g.
, measures of airflow resistance in patients (forced expiratory volume in 1 second, FEV
1
) or animal models, airway narrowing in lung slices, or grams tension in isolated ASM strips[
30
,
31
]. Increased ASM mass, seen in asthma and various animal models of asthma, is expected to manifest as changes not only in the magnitudes of airway narrowing, but also in the rates of narrowing[
30
,
31
]. Thus in asthma, ASM appears to cooperate in most known pathogenic processes. ASM is central to the development of Airway Hyper-Reactivity (AHR) being the target and effector of procontractile agonists. Increases in ASM mass affecting airway geometry and mechanics, in conjunction with contractile sensitization, have profound effects on airway lumen size and resistance to airflow. Through both direct and indirect effects on other resident and infiltrating airway cells, ASM plays an important role in modulating the inflammatory response, and thereby promotes many of the features of airway remodeling. Likely asthma is caused by interactions between genetic and environmental agents, but its pathogenesis is still not well known. Clinically, asthma patients are reported to have elevated numbers of CD4
+
T (Th2 subtype) cells in the airways. These Th2 lymphocytes produce IL-4, IL-5, IL-9, and IL-13 which mediate the inflammatory response in asthmatic airways by recruiting and activating additional Th2 cells and also mast cells and eosinophils. Serine and matrix metalloproteinase have been reported as one of the crucial agents in asthma pathogenesis. A number of new therapeutic targets to rescue patients from asthma are underway. Omalizumab is a recombinant humanized monoclonal antibody that is proven to be effective for patients with moderate-to-severe persistent asthma[
36
,
37
]. Omalizumab binds to IgE and produces anti-inflammatory effects in allergen challenge and bronchial biopsy protocols supported the role that IgE plays in airway inflammation in asthma[
38
]. TNF-α also is up-regulated in asthma and promotes recruitment of neutrophils and eosinophils into the airways[
5
,
29
,
34
]. Etanercept a recombinant fusion protein that blocks TNF-α, produces marked and significant improvement in asthma control when added to high-dose ICS therapy in patients with treatment-resistant asthma[
39
,
40
]. The anti-TNF-α monoclonal antibody infliximab shows positive outcomes in moderate asthma despite ICS therapy[
41
]. Other therapies include selective inhibition of Cyclic adenosine monophosphate (cAMP), Macrolides and ketolides antibiotics, Adenosine A2B antagonists[
42
,
43
], Chemokine/chemokine receptor antagonists[
44
,
45
], prostanoid and F2-isoprostane antagonists, peroxisome proliferator-activated receptor gamma agonists, nitric oxide donors and inducible nitric oxide synthase inhibitors, and toll-like receptor modulators (Figure
2
). A novel antisense oligonucleotide, TPI ASM-8, has been targeted against CCR3[
35
] and other chemokine receptors β-chain of the proinflammatory cytokines IL-3, IL-5 and GM-CSF, which are involved in Th2 inflammation. TPI ASM-8 is an inhaled therapy allowing specific targeting to the lungs of a therapy that acts by different mechanisms to inhibit the activity of eosinophils and other Th2 cells, such as mast cells and basophils. These agents modulate inflammatory cell function and/or reduce airway inflammation in experimental models[
39
,
46
–
48
]. The last few years have seen a concerted effort by the National Institutes of Health and other agencies to manage asthma. The therapeutic and attitudinal advances in managing asthma have been very substantial in the past 15–20 years, resulting in more effective and safer ways of controlling it.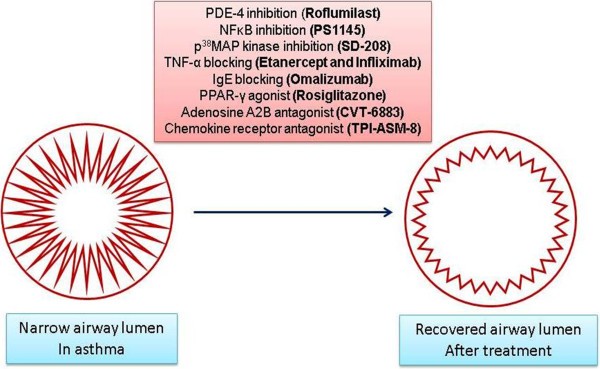 In summary, development of new research findings of asthma pathophysiology will help in designing novel therapeutic targets for asthma cure.
Abbreviations
AHR:

Airway Hyper-Reactivity
ASM:

Airway smooth muscle
BAL:

Bronchoalveolar lavage
BFGF:

Basic fibroblast growth factor
C3a/C5a:

Complement anaphylatoxins
COX-2:

Cyclooxygenase
CAMP:

Cyclic adenosine monophosphate
ECM:

Extracellular Matrix
GPCR:

G protein coupled receptors
LIF:

Leukemia inhibitory factor
MAPK:

Mitogen-activated protein kinases
MCP:

Monocyte chemoattractant proteins
PGE2:

Prostaglandin E2
VCAM1:

Vascular cell adhesion molecule-1.
Authors' Affiliations
(1)
Department of Medicine, Stanford University, VAPAHCS, Palo Alto, USA
Copyright
© Khan.;licensee BioMed Central Ltd. 2013
This article is published under license to BioMed Central Ltd. licensee BioMed Central Ltd. This is an Open Access article distributed under the terms of the Creative Commons Attribution License (http://creativecommons.org/licenses/by/2.0), which permits unrestricted use, distribution, and reproduction in any medium, provided the original work is properly cited.