Erratum to: Particulate matters from diesel heavy duty trucks exhaust versus cigarettes emissions: a new educational antismoking instrument
Multidisciplinary Respiratory Medicine
2016
11:11
Received: 2 February 2016
Accepted: 2 February 2016
Published: 16 February 2016
The original article was published in Multidisciplinary Respiratory Medicine 2016 11:2
After publication of the original article [
1
] it was brought to our attention that the graph in figure two (here referred to as Fig.
1
) contained an error in the intertitles. The corrected graph has been included in this erratum as Fig.
1
. Please note that this error does not affect any conclusions drawn in the original article.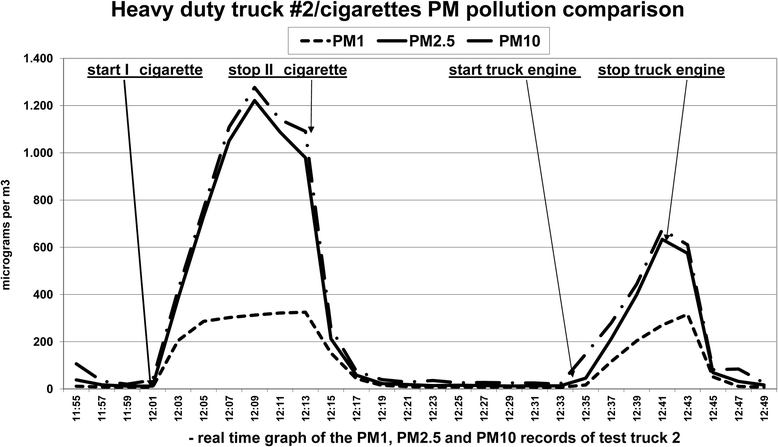 Open AccessThis article is distributed under the terms of the Creative Commons Attribution 4.0 International License (http://creativecommons.org/licenses/by/4.0/), which permits unrestricted use, distribution, and reproduction in any medium, provided you give appropriate credit to the original author(s) and the source, provide a link to the Creative Commons license, and indicate if changes were made. The Creative Commons Public Domain Dedication waiver (http://creativecommons.org/publicdomain/zero/1.0/) applies to the data made available in this article, unless otherwise stated.
(1)
Tobacco Control Unit, Fondazione IRCCS Istituto Nazionale dei Tumori, Milan, Italy
(2)
Patient Information Service, Fondazione IRCCS Istituto Nazionale dei Tumori, Milan, Italy
De Marco C, Ruprecht AA, Pozzi P, Munarini E, Ogliari AC, Mazza R, et al. Particulate matters from diesel heavy duty trucks exhaust versus cigarettes emissions: a new educational antismoking instrument. Multidisciplinary Respiratory Medicine. 2016;11:2.PubMed CentralView ArticlePubMedGoogle Scholar