The AIMAR recommendations for early diagnosis of chronic obstructive respiratory disease based on the WHO/GARD model*
Multidisciplinary Respiratory Medicine
2014
9:46
Received: 14 May 2014
Accepted: 16 July 2014
Published: 3 September 2014
Abstract
Respiratory diseases in Italy already now represent an emergency (they are the 3rd ranking cause of death in the world, and the 2nd if Lung cancer is included). In countries similar to our own, they result as the principal cause for a visit to the general practitioner (GP) and the second main cause after injury for recourse to Emergency Care. Their frequency is probably higher than estimated (given that respiratory diseases are currently underdiagnosed). The trend is towards a further increase due to epidemiologic and demographic factors (foremost amongst which are the widespread diffusion of cigarette smoking, the increasing mean age of the general population, immigration, and pollution). Within the more general problem of chronic disease care, chronic respiratory diseases (CRDs) constitute one of the four national priorities in that they represent an important burden for society in terms of mortality, invalidity, and direct healthcare costs. The strategy suggested by the World Health Organization (WHO) is an integrated approach consisting of three goals: inform about health, reduce risk exposure, improve patient care. The three goals are translated into practice in the three areas of prevention (1-primary, 2-secondary, 3-tertiary) as: 1) actions of primary (universal) prevention targeted at the general population with the aim to control the causes of disease, and actions of Predictive Medicine - again addressing the general population but aimed at measuring the individual's risk for disease insurgence; 2) actions of early diagnosis targeted at groups or - more precisely - subgroups identified as at risk; 3) continuous improvement and integration of care and rehabilitation support - destined at the greatest possible number of patients, at all stages of disease severity. In Italy, COPD care is generally still inadequate. Existing guidelines, institutional and non-institutional, are inadequately implemented: the international guidelines are not always adaptable to the Italian context; the document of the Agency for Regional Healthcare Services (AGE.NA.S) is a more suited compendium for consultation, and the recent joint statement on integrated COPD management of the three major Italian scientific Associations in the respiratory area together with the contribution of a Society of General Medicine deals prevalently with some critical issues (appropriateness of diagnosis, pharmacological treatment, rehabilitation, continuing care); also the document "Care Continuity: Chronic Obstructive Pulmonary Disease (COPD)" of the Global Alliance against chronic Respiratory Diseases (GARD)-Italy does not treat in depth the issue of early diagnosis. The present document – produced by the AIMAR (Interdisciplinary Association for Research in Lung Disease) Task Force for early diagnosis of chronic respiratory disease based on the WHO/GARD model and on available evidence and expertise –after a general examination of the main epidemiologic aspects, proposes to integrate the above-mentioned existing documents. In particular: a) it formally indicates on the basis of the available evidence the modalities and the instruments necessary for carrying out secondary prevention at the primary care level (a pro-active,'case-finding'approach; assessment of the individual's level of risk of COPD; use of short questionnaires for an initial screening based on symptoms; use of simple spirometry for the second level of screening); b) it identifies possible ways of including these activities within primary care practice; c) it places early diagnosis within the "systemic", consequential management of chronic respiratory diseases, which will be briefly described with the aid of schemes taken from the Italian and international reference documents.
Keywords
COPDEarly diagnosisGuidelinesPreventionRespiratory diseases
Review
Defining the responsibilities
The United Nations in 2011 identified chronic non-communicable diseases as the health priority of this decade[1]. Also the World Health Organization (WHO) defines chronic diseases as a global threat and includes among the major diseases - besides cancer, cardiovascular diseases and diabetes - also chronic respiratory diseases, chiefly COPD[2]. According to the WHO documents[3] the epidemic of chronic diseases can be combatted only through prevention (primary and secondary) and an integrated treatment of the disease after the diagnosis.
The means proposed include firstly the development of national programs of prevention and control of chronic respiratory diseases, aimed not only at defining the most pertinent healthcare strategies and actions, but also at raising political and social interest about this issue of public health. Alongside these initiatives also fundamental are the awareness and health education of the general public (for primary and secondary prevention) and training of healthcare professionals (not only in responding to citizens' needs regarding primary and secondary prevention, but also for appropriate treatment to the patients, a treatment that must integrate the various points of view of the stakeholders).
Adherence to treatment and integrated care are considered the best means to reduce inappropriate treatment practice, which represents not only a cost for society but also a risk for the individual. One of the most striking examples of such costs are admissions to Emergency Care, which, in the United Kingdom, show COPD as ranking 1st among the chronic diseases and asthma 3rd as a cause for recourse to Emergency Care[4].
To attain these goals - fundamental for an optimal care of all chronic diseases - the organizational requirements are as follows: a) a greater role played by general practitioners (GPs); b) creation of intermediate levels of care between primary care and the hospital (involving better and faster communication between the specialist and GP - these last organized possibly in some form of association - as well as a more rational use of telemedicine); and c) structuring of home and community care, which includes also redefining the role of the hospital for acute patients and the creation of intermediate inpatient facilities between the hospital and the patient's home[5].
Specifically concerning COPD - and in general valid for almost all chronic respiratory diseases - the actions to be implemented have been identified in a document of the United Kingdom published a few years ago that established the priorities for the National Health Service as follows: 1. prevent the development of COPD through a significant reduction of the number of smokers in the community; 2. improve diagnosis of COPD, in particular through a more widespread use of spirometry tests; 3. help patients to self-manage their own disease through respiratory rehabilitation; 4. integrate the care of patients affected by COPD, i.e. link specialist care to primary care[6].
In accordance with the above, in COPD - as for chronic respiratory diseases generally - the State and National Health Service are responsible for planning (and funding) the most appropriate actions for the various levels of preventive action (some of which are common to all other chronic diseases) and for integrating the healthcare services. It is the responsibility of health professionals (and their Scientific Societies) to know about and apply the fundamentals of prevention and treatment including their relative organizational aspects. General Population have the responsibility to learn about the behaviors that promote health ("health education"), as well as the characteristics of the early phases of respiratory diseases (so they can confirm or disconfirm their existence through the appropriate actions of secondary prevention). Patients Associations should help associates (both patients and relatives or caregivers) in the educational process for self-management of disease once it is manifest ("education about the disease") as well as advocate for public and political awareness of the burden of the disease.
The size of the problem and consequent strategies
In Italy, as there is no register for such diseases nor a corresponding exemption ticket, precise and reliable official data concerning COPD are lacking. Moreover, and not only in Italy, a large underestimation of the disease itself has been demonstrated.
In Italy in 2001 - based on WHO data - out of a total 556,892 deaths 64,984 were due to respiratory causes: of these, 31,968 deaths were due to lung cancer, 16,295 to chronic obstructive respiratory diseases, 8,377 to pneumonia and 8,344 to other respiratory causes. In 2006, there were in Italy (excluding deaths due to lung cancer) 35,751 deaths due to respiratory causes (57% males) representing 6.4% of all deaths. In 2008, 37,659 deaths were registered (6.5% of the total mortality). Of these, the deaths due to asthma were 474, while those due to COPD, chronic bronchitis, emphysema and other chronic obstructive diseases were 20,786[7]. Respiratory diseases all together thus represent the 3rd ranking cause of mortality (or 2nd, if lung cancer is included).
These are deaths that mostly affect the more advanced age-groups, and approximately half of them are due to COPD; nevertheless, when the moment of death arrives the patient will have already lived many years of invalidity as shown by the European Community Respiratory Health Survey (ECRHS) which highlighted that in the 20-44 years age-group new cases of COPD per 1,000 inhabitants each year range from a little more than 1 to almost 3 depending on the criterion of obstruction utilized[8].
On the basis of the National Institute of Statistics (ISTAT) data, about 5% of adult Italian males are allegedly affected by COPD and about 4% of women, but as noted clearly in the COPD guidelines of AGE.NA.S: "This estimate, that places COPD in 6th position of chronic diseases present in Italy and which, translated into an absolute value, identifies more than 2,600,000 Italian citizens as affected is almost certainly an underestimate of the real dimensions of the prevalence of the disease"[9].
This statement is confirmed by a recent Italian study that compared the data of prevalence drawn from administrative records with the general medicine database (Health Search) and with estimates based on ISTAT data. This study, while it showed good agreement between the three sources concerning diabetes, heart failure and ischemic heart disease, revealed COPD prevalence based on administrative data to be markedly lower with respect to the data from general medicine[10].
More in line with the picture that emerges from the international literature are the data of Viegi et al., on the basis of which 9.9% of people between 25 and 45 years suffer from obstructive disorders while in the overall age-range of 25-73 years 11%, 18% and 40% of people are affected depending on whether one applies, respectively, the criteria of the European Respiratory Society (ERS), clinical criteria, or those of the American Thoracic Society (ATS)[11].
Slightly lower prevalences have been reported in the past by the Italian GPs (SIMG) network (Health Search), which shows 4.5% of the general population as affected by COPD, and well over 8% of males and 4% of females aged over 65 years[12].
Concerning the different levels of disease severity and according to the previous GOLD staging, Viegi's group showed the COPD prevalence in Italy as follows: for males, 14.2% = stage 0 or at risk (people with chronic cough or sputum production), 12.3% = stage I or mild, 4.5% = stage II or moderate, 0.4% = stage III-IV or severe-very severe; for females, 10.1% = stage 0 or at risk (with chronic cough or sputum production), 7.3% = stage I or mild, 2.2% = stage II or moderate, 0.3% = stage III-IV or severe-very severe. Similar results have been found also in other countries[13].
These are figures that evidence an epidemic trend, which needs to be faced as a real emergency. An emergency all the greater considering that - as said before - this frequency is high notwithstanding the figures are underestimated[14]. Underestimation derives mostly from the fact that a disease with a low profile or visibility is also less often suspected (compared to other more "publicized" diseases) and consequently less often investigated diagnostically. A classic example are patients who report dyspnea on exercise: they are almost always referred for an electrocardiogram or to a cardiac specialist and consultation by a pulmonologist comes only at a second or even third step. Patients with COPD (but also asthma) are often undertreated to the point that not even those affected know they have a chronic obstructive disease[15]. When one compares patients' awareness about their disease with that of other chronic pathologies, such as diabetes or hypertension, one sees that only a fifth (20.6%) of patients with COPD are aware about their disease compared to 94.3% of diabetic patients, 69% of patients with hypertension and 57.2% of heart disease patients[16]. Of note, in the same study, only slightly more than 17% of patients affected by COPD remembered having received advice to quit smoking.
Underdiagnosis has mostly been investigated by studies abroad that report percentages of missed COPD diagnosis ranging between 75% and 91% in Sweden[13] and 80% in the United Kingdom[17, 18]. Strange as it may seem, even severe cases, despite the fact they provoke significant respiratory symptoms, are diagnosed in only half of the patients. The studies just mentioned found in fact that missed diagnosis of COPD regarded 50% of severe cases, 81% of moderate cases and more than 99% of mild cases in Sweden, while in the United Kingdom only 46.8% of cases of severe or very severe COPD had received a diagnosis of respiratory disease.
In Italy, a recent qualitative study that used the approach recommended by GARD/WHO, i.e. social communication - with posters and leaflets placed in the GP's office and television ads - and offering a free spirometry to all who considered they had symptoms of respiratory disease, found chronic lung disease to be present in 356 (86%) out of 414 people who presented spontaneously, of whom 320 (77% of the total and 90% of those affected) were without diagnosis. Interestingly, only 6% (13 of the 221 people found with COPD) were already known to have COPD[19].
Besides the above-mentioned studies, others have reported, in large-size samples with "functional" confirmation of the clinical suspicion, a prevalence of bronchial obstruction in adults in industrialized countries of up to 16%[20], but which a recent review has shown can reach as much as 37% depending on the group examined and the criterion used for diagnosis of COPD and of bronchial obstruction[21]. The previously cited study[18] carried out on more than 8,000 British adults over 35 years of age showed a prevalence of COPD (defined with spirometry) of 13.3%. Overall, the most reliable estimates for the global burden of COPD range from 3.6% to 10.1%[21], from 4% to 10%[22], and from 9% to 10%[23]. While acknowledging that COPD prevalence can vary in terms of the mean age of the population, the prevalence of smokers and the spirometry criteria used, it can be concluded that the prevalence of COPD in developed countries - and hence also in ours - can be estimated at probably 10% or more in individuals over 45 years of age, with a cumulative incidence of 5% of new cases (according to GOLD criteria) over a period of seven years in individuals aged 45-79 years, previously healthy from the respiratory point of view[24].
If the first cause for missed diagnosis of this respiratory disease is low patient sensitivity about the symptoms themselves of the disease, when symptoms finally are reported to the doctor scant use is made by the latter of the procedures that could correctly lead to diagnosis. In a study carried out a few years ago, only about half of patients who reported symptoms performed a spirometry test[22]. The situation is worse still in Italy: based on the aforementioned Health Search data, only about 30% of the cases of (recorded) COPD diagnosis are accompanied by a spirometry test[25]. Also in the hospital setting the percentage of COPD diagnosis with spirometry documentation is decidedly lower than expectations, with mean values around 15% in internal medicine departments[26] and around 60% in the pulmonary setting[27].
Besides being harmful for the individual affected, this underestimate and under-awareness involves a cost for society (for late diagnosis and inappropriate treatment which in turn lead to a not-inevitable number of cases of invalidity) and a drain on healthcare resources (for inadequate or nonexistent planning of specific patient care - in Italy there is still no exemption for medical costs related to COPD). In fact the costs of non-programmed care - a consequence of underdiagnosis - can double those of programmed care[28].
Last, it is worthwhile noting that COPD care already now represents a high cost for the community: it is the 7th ranking cause for number of admissions and for cost of hospital stay, and the 2nd for mean length of stay, with a percentage of hospital admissions that represents 1.2% of the total. Hospitalizations for COPD constitute more than 6.5% of the total; based on U.K. data[29] respiratory diseases constitute the leading cause for visits to the GP, coming before even those for musculoskeletal problems. Also based on the same source, respiratory diseases represent the 2nd cause for access to the Emergency Ward, after accidental lesions (wounds, injuries and poisoning)[29]. A patient treated at home with long-term O2 therapy costs approximately 4,500 euro per year[30].
The general prevalence of chronic respiratory diseases and hence the cost of their care are destined to rise, given that such diseases and the relative consequences are events associated with the elderly and, moreover, that advances in healthcare are improving patients' mean survival.
In conclusion, using with prudence the above-mentioned estimates (i.e. from 4 to 10% of the population) about 3 millions people would be affected by this disease, i.e. more or less the same number as those affected by diabetes (4.9% of the general population: 5.0% of females, 4.7% of males), i.e. almost 3 million people[31] - a chronic disease that benefits from very different medical and social funding and a very different attention on the part of health professionals. It is not by chance that WHO recommends the adoption of initiatives to raise awareness about the epidemiological importance of COPD through advocacy both of the wider public and of politicians and decision-makers in general[3].
Global management of COPD
As said, the management of COPD and chronic respiratory diseases generally needs to be put in the context of today's healthcare in which chronic invalidating diseases have an overwhelming prevalence (cancer, diabetes and cardiac disease as well as respiratory diseases). In addition to the increase in the number of people affected by these diseases due, as already mentioned, to the growing average age of the population, the cost of their care is rising due to the development of new, effective pharmacological treatments and new rehabilitation protocols that increase still further the life expectancy. These trends place the accent on the sustainability of the healthcare budget: if today there is 1 person over 65 years for every 2 people of an employable age, this ratio is destined to become inverted in the short term and we will have 2 elderly for every 1 person of an employable age. For this reason, in the U.K. - which has a national health system (NHS) similar to our own - a debate has arisen about reorganizing the health system in relation to chronic respiratory disease[32]: the NHS should in future help citizens to choose a healthier lifestyle through health education and information, promoting a healthy "air" environment, and offering them integrated services of primary, secondary and tertiary prevention.
In practice, a national health service should, while ensuring care for already existing chronic diseases (with the aim to reduce their invalidating consequences through early diagnosis and rehabilitation), implement actions aimed at preventing the onset of new ones. Part of the care for currently existing diseases is an optimization of the existing services (which includes a reduction of the inappropriate healthcare practices) and their integration. By way of example, currently care for chronic diseases is prevalently hospital-based, but it will have to organize itself differently to become prevalently based in the local community. Also in Italy we have begun to face this problem with government document "Gaining health" ("Guadagnare salute") produced in the spring of 2007 that highlights the importance of prevention in community health management (at all levels) and the relative strategies and consequent working actions to achieve it[33].
In Italy, as in the U.K., the possible remedies at organizational level are:a greater involvement of GPs and the creation of intermediate levels between the assessment carried out in the GP's office and hospital, with more frequent and faster communication between specialist and GP (ideally the GP should be located in an office in association with other GPs); a rationally designed use of telemedicine; and a better structuring of homecare, with a greater presence and integration of community nurses. GARD-Italy, under the auspices of our Ministry, highlights also the importance of fighting risk factors, of anticipating the diagnosis and, thus, of a system of care aimed at preventing/delaying complications, relapses and progression of the disease[34].
A way to put into practice the general principles outlined above is exemplified in the flow diagram in Figure
1
modified from the joint statement of the three leading scientific societies in Respiratory Medicine in conjunction with a scientific society of General Medicine,
The Integrated Management of COPD
[
35
]. The cited document and relative flow diagram were used - together with the Italian AGE.NA.S guidelines on COPD[
36
] and with the documents of GARD/WHO and GARD-Italy (see below) as a basis for elaborating the model in the present document.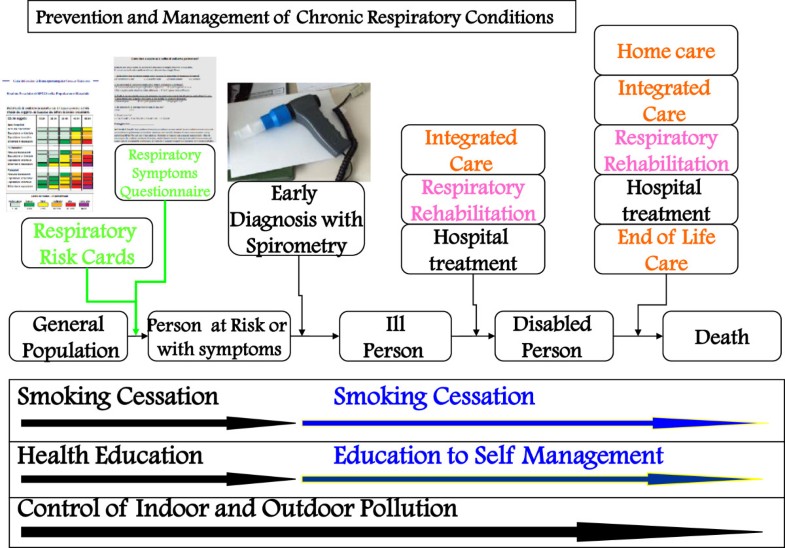 The flow chart represents the general management of COPD and can serve for the management of any chronic respiratory condition (accordingly modifying the instruments for early diagnosis). The general population must be stimulated and assisted to keep healthy: this is achieved through health education (which means guiding them to choose healthier behaviors) together with the elimination of outdoor air pollution (through appropriate legislation and continuous monitoring of air quality), education about indoor pollution control, and tobacco control.
It is possible to identify in the general population individuals who, as bearers of fragility or defects or particular characteristics, have a predisposition to develop disease: identifying them allows the maximum individual tailoring of interventions (so-called "predictive" medicine). For example, as interventions of predictive medicine one can intend actions addressed at evaluating cholesterolemia in the prevention of cardiovascular diseases. Concerning COPD, the best available tool for identifying persons most at risk are the respiratory risk cards produced by the National Research Center (CNR) and National Institute of Health[37].
Persons identified through the use of risk cards - in one of the possible modes (see below) - or those who due to presence of respiratory symptoms - even generic - are suspected of COPD undergo an early diagnosis procedure based on spirometry as the method of choice. Once the diagnosis of COPD is made the patient enters a treatment process based on self-management, aided by education about the therapy, programmed integration between hospital and local community, and pulmonary rehabilitation (PR), the goal of which is to delay the invalidating consequences of the disease. With the progressive worsening of the disease, home care must be organized and, in the final phases, pain care and end-of-life care. Through these organizational modalities, and only in this way, COPD care (and that of the other chronic diseases) is based on an appropriate use of resources and is sustainable by the community, as demonstrated by the U.K. hospitals clinical audit system[38].
All points presented in the flow chart - in particular the issue of early diagnosis - will be discussed in the following paragraphs.
Primary prevention of COPD
Primary prevention signifies prevention of the occurrence of chronic respiratory disease. This is achieved principally, but not only, through a consistent reduction of the number of smokers in the community, together with health education and indoor and outdoor pollution control (Figure
2
).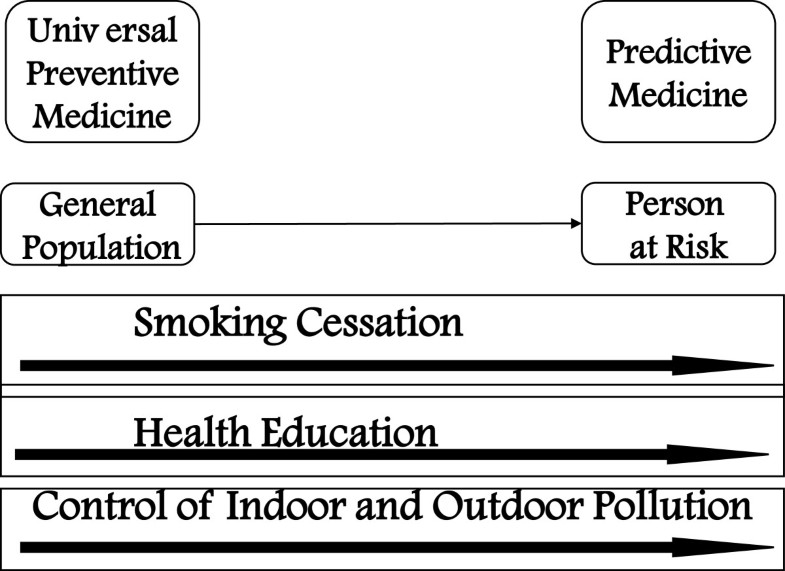 In fact the WHO estimates that only about 42% of the global epidemiologic burden of COPD is due to environmental exposure: in particular, occupational exposure would account for 12%, and domestic exposure to home cooking fuels for 22% (bear in mind that these are estimates regarding the whole world for which there are obviously different living conditions from those characteristic of the western world, in which this exposure is far less important). Outdoor pollution is estimated to be responsible for 3% of cardiopulmonary mortality. On the contrary, the preponderant role of smoking is underlined by the same WHO estimates: for COPD active smoking alone contributes to about 38% of the global burden[39].
Reduction in the number of smokers is brought about, at the level of the general population, by legislative and commercial measures (bans, sales limitations, taxation) rather than through health treatments. These latter, in particular the most individually tailored ones (and, where necessary, the most "intensive") are reserved for those within the general population who on account of their characteristics (genetic, habit- or lifestyle-related) are at greater risk than others. Particular effort hence will be spent on identifying them (predictive medicine) and directing them a priori to the appropriate care.
In reducing the number of smokers one acts not only on the principal cause of COPD but also on the principal risk factor of other prevalent chronic diseases. Smoking in fact contributes overall to about 12% of the risk expressed in disability adjusted life years (DALYs), hypertension being responsible for approximately 9%, overweight for 8%, alcohol and cholesterol for about 6%, and physical inactivity for 3%.
In the general population tobacco control is to be understood as a primary prevention measure, i.e. aimed at avoiding the onset of diseases linked to smoking itself, and it should be held quite distinct from the role that smoking control has in the people already affected by disease (see section How to organize treatment: smoking cessation and related pharmaceutical drugs). The control of this cause of diseases is the most important measure in the field of prevention of chronic diseases and can be achieved either by impeding smoking initiation of adolescents not yet smokers or by making already active smokers quit smoking
before
they develop a disease. The two approaches are not alternatives but, rather, complement each other; nonetheless of the two strategies the one that obtains best results in the short term is smoking cessation of active smokers. In fact, while the health benefits of non-initiation will be seen after approximately one generation (i.e. after about 20 years), within just a few days of smoking cessation the ex-smoker enjoys health benefits, in particular cardiovascular benefits, the full effects of which are revealed over a period of about 16 years. Essential for the success of both approaches is that they are implemented in a social and cultural context that is able to control smoking from all points of view - legislative, commercial and price regulation - focused on protecting the health of non-smokers. The guide for all these actions is the Framework Convention on Tobacco Control (FCTC) of the WHO, a convention to which also Italy has adhered (for further details, please refer to[
40
]). The main points of the strategy are summed up by the acronym MPOWER (Table
1
) which refers to the document[
41
]. The offer of services for smoking cessation (made obligatory by article 14 of the FCTC) permits - as shown above - to act for the prevention not only of chronic respiratory diseases but also of chronic diseases other than respiratory which represent the great majority of the causes of death and invalidity in our community.
Table 1
Strategy for smoking control according to the Framework Convention on Tobacco Control (FCTC) of the WHO
Objective 3: To promote interventions to reduce the main modifiable risk factors e.g. tobacco use

Key areas of actions for tobacco use reduction

●

 M onitor tobacco use through tobacco prevention policies

●

 P rotect people from tobacco smoke in public places and workplaces

●

 O ffer help to people who want to stop

●

 W arn people about dangers of tobacco

●

 E nforce bans of advertising, promotion and sponsorship

●

 R aise tobacco taxes and prices
Both prevention of smoking initiation in young non-smokers and smoking cessation in adult smokers represent effective strategies of prevention of COPD (and of other smoking-related diseases). However, as shown above, prevention of initiation yields results after 20-40 years, which is the mean time interval between the beginning of exposure to harm from smoking and the onset of a disease correlated to it.
As said at the start, it is also important - though less - to control outdoor and indoor air pollution. This theme is intertwined with the more general one of health promotion[42] which is not simply healthcare but the result of coordination between all sectors and subjects whose activity is fundamental for the health of the community. In these fields of health promotion the role of the health services is definitely marginal accounting for about 15% compared with socio-economic factors and lifestyle (which account for about 50%), the environment (about 20%) and genetic heredity (15%). For this reason one speaks of "intersectorial" interventions of health promotion to underline the role, for example, of control of pollution from vehicles brought about through advances in the design of internal combustion engines or through the modification of urban and transportation policies.
For what concerns indoor pollution, a distinction should be made between that of the workplace and that of the living environment. In the first case legislation and control based on sanctions play a leading role, in that they can regulate the exposure of workers to substances that are potentially dangerous for the respiratory system. Concerning the home and living environment, while in public spaces legislation and repression still have a role, for the home environment only health education is valid. One should bear in mind that the chief role in domestic pollution in industrialized countries is played not only and not so much by gaseous products originating from combustion but by passive smoking to which about half of European children are allegedly exposed[43].
The combination of preventive measures includes also education about a healthy lifestyle, which includes eating and physical activity. In this context - more specifically a matter of the health sector - interdisciplinary collaboration and integration assume a great role: respiratory disease specialists interact with the Department of Prevention, regional health and social welfare services, and GPs.
Secondary prevention of COPD (early diagnosis)
What to do after early diagnosis
Notes on COPD care as the disease evolves
In time, as the disease progresses the relative respiratory failure leads to invalidity and, subsequently, to death. Care modalities thus become necessary that - added to those outlined in the preceding paragraphs - assure the maximum possible well-being of the person through respiratory home care and, in advanced cases, end-of-life care (Figure
10
).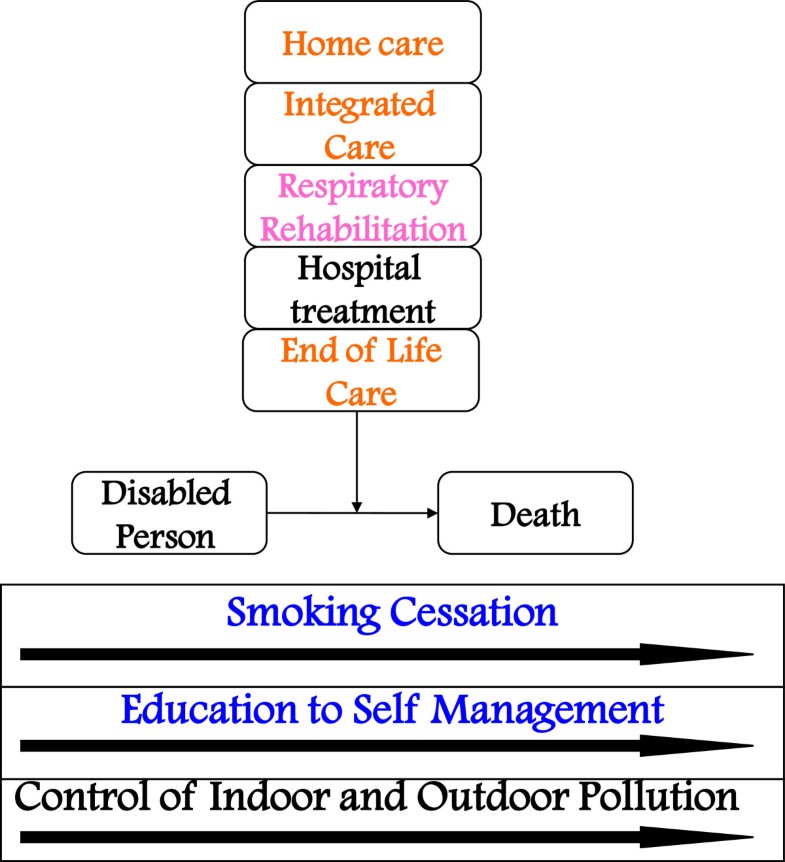 On the other hand, chronic respiratory and cardiac diseases are among the most prevalent causes of invalidity, while dyspnoea is one of the most frequent (and invalidating) symptoms: hence home care constitutes a necessary support for the patients and their caregivers. The resulting burden for the National health service is not negligible, both in terms of the costs and the workload involved: Italian patients in LTOT still in 2009 were prudentially estimated to be about 100 per 100,000 inhabitants and to generate a cost for the NHS of more than 250 million annually[120].
Homecare
In general the term 'home care' refers to a series of health treatments provided at the patient's home rather than within a healthcare facility. There exist different (increasing) levels of home care, ranging from a simple control of the person's general conditions and consumer goods supply (diapers, catheters, etc.) to specialized home care for ventilator-dependent persons. The latter care, which comes under the Pulmonary department of the hospital, consists in clinical controls and specialized functional monitoring and it constitutes the true respiratory home care.
In the last few years the concept of respiratory homecare has evolved to include not only the assistance described above, destined for patients already diagnosed and staged as to their severity and clinically stable, but also situations of instability due to acute events (e.g. exacerbations of COPD) not so severe as to require hospital admission (home care in this case supported by tele-assistance)[121]. Also the "protected" discharge from hospital of post-acute situations constitutes part of home care (discharge to home). This modality is also promoted by the Italian Ministry of Health in a system of integrated care. Discharge should always be agreed to prior with the GP, in the context of a formal, informed and agreed decision[122].
On this latter point, a further category of patients has recently been identified, namely "chronically critical" patients - these are people who have managed to survive what were, in fact, critical situations (e.g. a long stay in ICU) leaving them nevertheless subsequently with enduring states of organ failure and who, after a stay in the ICU or semi-intensive care followed by hospitalization in progressively less "intensive" wards, have arrived home with a need for mechanical ventilation and a very advanced level of invalidity. These are people who have before them months and sometimes years of stationary conditions. This new category of patients, rapidly on the rise numerically speaking, presents very slow progress (or regression) in their clinical conditions and a need for assistance by highly qualified personnel, and it represents a home care target that now is as inevitable as it is peculiar[123]. Here we will limit ourselves to the first type of respiratory home care described, i.e. that relative to known and stable patients, underlining however that, in the not too distant future, also the other activities described above will have to be included under the umbrella of 'homecare'.
The scope of specialized respiratory home care is to monitor the situation through planned visits to the home, generally by a professional nurse with specialist training, or visits requested (generally by telephone) by the patient himself or by the GP. A check is made of symptoms, clinical status, and pulse oximetry. If considered necessary the nurse will perform a blood gases analysis. Symptoms and signs of clinical instability can be investigated by means of an outpatient visit and medical check. Exacerbations can be diagnosed early and treated at home or in the hospital depending on the clinical conditions and the family caregiver help available.
In Italy chronic respiratory patients are generally enrolled in the home care program when they become oxygen- or ventilator-dependent. In other countries, the enrolment includes also patients who have encountered in the preceding year frequent (> 2-3/year) exacerbations, independently of the presence of severe blood gas alterations[124]. But naturally this depends on the resources available.
Those to whom respiratory homecare is destined should also receive assistance to quit smoking (if current smokers) and education on the management of the advanced stage of their disease, including education about oxygen therapy. It is claimed that this mode of care, as well as improving the quality of life of patients in an advanced stage of COPD, also reduces their need for hospitalizations[
124
]. We referred to the role of the professional nurse in home care, but other figures too, if available, should be included in the home management team of these patients, as shown in Table
17
, taken from the joint document and from the ministerial document of GARD-Italy on continuing care in COPD[
35
,
122
].
Table 17
Healthcare professionals involved in the home management of patients with respiratory failure
| | |
| --- | --- |
| ● | Referral doctor for integrated home care |
| ● | "Specialized" professional nurse |
| ● | Pulmonary rehabilitation therapist |
| ● | Psychologist |
| ● | Dietician/nutritionist |
These health professionals obviously should always be flanked by the patient's GP, who constitutes the second level of reference and to whom the service of respiratory home care reports regarding the patient.
Home care today in Italy appears still far from completely established, it shows marked and significant variations between the different regions and, where it has been studied (perhaps as part of larger studies), poorly funded[80]. Instead, it ought to be implemented rapidly in order to respond to the needs arising not only from the increased numbers of those requiring care, but also from the progressive reduction of hospitals and the relative number of beds available.
End-of-life care (palliative care)
Palliative care (which in the final phases becomes end-of-life care) consists in every intervention offered to ensure the patient the best possible quality of life, and a dignified death when this appears close or when the person affected by chronic respiratory disease does not respond any more to specific treatments. It does not offer to accelerate or delay death artificially. End-of-life care seeks to treat also the psycho-social aspects of the disease, including assistance to family members[125].
Essentially, palliative care consists in the remission of the symptoms afflicting the patient: dyspnea, abundant and/or difficult-to-clear sputum, pain, depression, anxiety, insomnia, various levels of immobility, and constipation. These symptoms are present also in terminal cancer patients and are treated in the same mode[125].
Controlling symptoms is not sufficient to guarantee the patient the best possible quality of life, if by quality of life one intends the difference between patients' expectations and their real condition of health (i.e. Calman's gap). While this latter is influenced by the capacity/possibility on the part of the palliative care team to contain symptoms and maximize the residual resources, the patient's desires and expectations depend on their awareness of the incurability of their disease; thus communication of the truth or, better, accompanying the patient to understanding it represents one of the main tasks of the palliative doctor.
From an organizational point of view, the best response to the patient's needs in an advanced phase of disease is provided through the network, which includes the dedicated, multidisciplinary palliative care team, (consisting of a pain care specialist, nurse, psychologist, social assistant, spiritual assistant, and others) that interacts with other physicians based in the hospital (pulmonologist) and local community, e.g. the GP and the continuing care physician[126].
Thus, for persons who have reached the final stage of disease, the group of professionals that is responsible for the care must include a pain care specialist. At this point, the role of the pulmonologist passes into the background, shifting from coordinator of activities (the role carried out in the overall activities of home care) to that of collaborator with the specialist responsible for pain care, who must not only possess skills in communication and human relations, but also knowledge about the treatment options in the advanced phases of the pathological processes, solid ethical notions and organizational capacities[127].
If, as said, the scope of pain care is to prevent and alleviate suffering, control symptoms and provide support to patients and their families in order to maintain and improve their quality of life, then - although pain care was originally conceived and implemented as an aid in approaching death - it should in fact be applied at all advanced stages of disease, both terminal and not, and should be available for patients at all stages of disease, targeted to their individual needs and requirements, as well as to the needs of their families, friends, and those who provide care as part of their job.
Clinicians who take care of patients with chronic or advanced respiratory disease or with critical diseases need to possess or acquire a series of basic skills in pain care. They should consult pain care specialists so as to be able to manage their patients in an appropriate manner under the supervision of other expert physicians. Also attention to grieving both before and after the patient's death is recognized as an essential component of palliative care.
In this patient population, the difficulty in planning pain care resides in the unpredictability of the course of disease in the final phases, in that rarely are events heralded by a clear, unequivocal moment of transition and, on the other hand, what was up till this moment a very slow course can suddenly be precipitated by potentially fatal exacerbations[128].
These characteristics should orient the national health system toward greater attention to what the affected person effectively desires in terms of assistance and treatment. The uncertainty of the prognosis as regards survival means that, with respect to cancer patients, those affected by chronic respiratory disease will undergo far more frequently invasive interventions (from mechanical ventilation to cardiopulmonary resuscitation, to nutrition through naso gastric tube). Further, both persons in advanced cancer conditions and those with very severe chronic respiratory disease would appear to prefer the quality of their remaining life rather than simply a prolongation of their survival[129]. For this reason is has been suggested to anticipate the entry of COPD patients into palliative care, so they can be informed from the outset about the predicted course of the disease and state their preferences regarding assistance[127, 130, 131]. It hardly needs to be underlined that also in this setting the GP as always must be an indispensable part of the team[132].
Conclusions
Primary and secondary prevention of COPD is recommended by the WHO through the model proposed by GARD. Also Italian ministerial documents and national and international guidelines recommend such a line of action. The end-point of the relative interventions is to improve community health and the care provided to patients with COPD in a way that is sustainable for the financial resources of the National Health Service.
On the basis of the WHO/GARD model, while Primary prevention is based on inter-sectorial interventions not centered on the healthcare system that aim to improve the living environment, eliminating or reducing the presence of gas and particles harmful to the air we breathe, Secondary prevention (i.e. early diagnosis) - while including actions and provisions not strictly pertaining to the health sector such as raising public awareness (advocacy) about pulmonary diseases and their most frequent symptoms - is composed instead of a series of actions that pertain specifically to healthcare.
Early diagnosis (an intervention which is today a priority in that it immediately reduces the social and individual consequences of COPD, while the effect of Primary prevention measures will not be seen until future years) could require greater investments in terms of organization, human and economic resources on the part of the national health service. Training of the healthcare personnel involved by scientific societies and the collection of data by these latter, that can demonstrate the efficiency and efficacy of the interventions adopted, would enable a correct planning of the changes that need to be made to respond to the effective needs and would facilitate their implementation.
However early diagnosis makes sense only if the system is able to follow up with an appropriate, standardized and sustainable treatment, something that requires not only the interdisciplinary collaboration of healthcare personnel but also the collaboration of patients (and their associations) who must know how and be able to self-manage their disease.
The challenge awaiting us in the future can be overcome only if all the components mentioned above can work together in a coordinated and synergic mode. Waiting for this coordination to come into full effect, we must not forget that the current priority in Italy is to collect and elaborate national data related not only to COPD epidemiology but also to the characteristics of its care, beginning with data on continuing care and on oxygen therapy.
Endnotes
aFor the meaning of these terms, see next paragraph "How to define bronchial obstruction".
bIt is beyond the scope of this document to discuss the greater sensitivity of the FEV1/VC ratio with respect to FEV1/FVC, or the merits for early diagnosis of examination of the curve pattern, or flow study at low lung volumes, or the measurement of residual volume as indices of obstruction.
cBy Treatment Education is intended the transmission of knowledge, training in performing skills and to promote changes in behavior, a transmission addressed to people affected by chronic disease, with the scope of improving the efficacy of treatment by means of their active and responsible participation in the program of care and assistance[35]. In COPD the most important, though not the only, provision for treatment education concerns training in the correct use of inhaler devices (see section How to organize treatment: educating patients about their disease).
*Elaborated by the AIMAR Task-Force for the application of the WHO/GARD model on early diagnosis of COPD.
Declarations
Acknowledgements
The Authors thank the Peer Reviewers Group : Cosimo de' Chirico, Vittorio Veneto General Hospital, Vittorio Veneto, TV, Italy. Fabrizio Facchini, Pulmonary and TB Unit, Vittorio Veneto General Hospital, Vittorio Veneto, TV, Italy.
Giovanna Laurendi, Ministry of Health, Rome, Italy
Carlo Lazzaro, Health Economist, Milano, Italy.
Mirco Lusuardi, Unit of Pulmonary Rehabilitation, Ospedale di Reggiolo RE, Italy.
Paola Pisanti, Ministry of Health, Rome, Italy
Andrea Smargiassi, Pulmonary Medicine Department, Università Cattolica del Sacro Cuore, University Hospital "A. Gemelli", Rome, Italy.
Authors' Affiliations
(1)
Pulmonary and TB Unit, Vittorio Veneto General Hospital, Vittorio Veneto, Italy
(2)
EPAR, INSERM UMRS-1136 IPLESP, Paris, France
(3)
EPAR, Paris Université Pierre et Marie Curie, UMRS-1136 IPLESP, Paris, France
(4)
Respiratory Unit, "G. Rummo" Hospital, Benevento, Italy
(5)
Internal Medicine Unit, Saluzzo Hospital, Saluzzo, Italy
(6)
General Practitioner, Brescia, SIMG Area Respiratoria, Florence, Italy
(7)
Sport Medicine, ULSS 7 Regione Veneto, Vittorio Veneto, Italy
(8)
General Practitioner, Regione Veneto, San Donà di Piave, Italy
(9)
Provincial Respiratory Pole, ASL Salerno, Salerno, Italy
(10)
Respiratory Unit, "G. Rummo" Hospital, Benevento, Italy
(11)
Respiratory Function Unit, Polla Hospital, ASL Salerno Salerno, Italy
(12)
General Practitioner, Naples, SIMG Area Respiratoria, Naples, Italy
Copyright
© Nardini et al.; licensee BioMed Central Ltd. 2014
This article is published under license to BioMed Central Ltd. This is an Open Access article distributed under the terms of the Creative Commons Attribution License (http://creativecommons.org/licenses/by/4.0), which permits unrestricted use, distribution, and reproduction in any medium, provided the original work is properly credited. The Creative Commons Public Domain Dedication waiver (http://creativecommons.org/publicdomain/zero/1.0/) applies to the data made available in this article, unless otherwise stated.